Health is our specialty
Puppies from champion parents
The White Wolves
Breeding the White Swiss Shepherd – with pedigree St. Hubertus
We strive for:
Excellent health
Wonderful character
Beauty
All our White Swiss shepherds live together with us in a family and herd environment on a large, 5-hectare estate surrounded by woods.
We strive for extremely vigorous health and the beautiful wolf look in combination with the mild, loyal character of a fine dog that: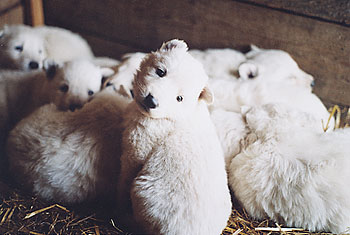 Guards well
Does not bark unnecessarily
Does not run away
Is child friendly
Is intelligent and easy to train
And moreover meets the standards of the White Swiss Shepherd:
Black nose, strong pigmentation
White coat
Beautiful, harmonious built
Low-carried tail
Upright, not too large ears, etc. ...
Our natural, animal friendly breeding method is unique in Europe.
The story of our first dog
One day in the summer of 2005, the ten horses of our herd had disappeared from the meadow. After following their tracks for many hours, we managed to find them three kilometres from our home! But there were only nine of them now: Felissa, one of our most magnificent mares was not with them. Not long after, we found out that our horses had been released deliberately, and that Felissa had been taken away, without any scruples, by three kids from the village. When we had recovered from this incident and the whole herd had been restored, we decided we could not afford such an incident ever again: we had to buy a guard dog!
So we started looking for a dog that would suit our requirements. As we breed horses, but also goats, we needed a good dog that was attentive to horses but could also accompany a flock of goats when we take it to grazing grounds.
We were looking for a dog with multiple qualities: brave, intelligent, easy to train, and well disposed to children. It also had to be big enough and very energetic. We first thought of a German Shepherd, until we discovered the White Swiss Shepherd, the very dog we were looking for!
⬆