Health is our specialty
Puppies from champion parents
Character of the White Swiss Shepherd:
He is friendly and sociable
The White Swiss Shepherd naturally has his master, like every dog, but accepts orders, and caresses of course, from other entire family. He is particularly attentive to babies and children who can pull his ears and tail until he has had enough. He then simply walks away, but does not growl! A welcome guest is first sniffed thoroughly and then greeted with a wagging tail. Other pets belonging to the family dogs, cats and even rabbits -- quickly become companions. Horses and donkeys are the big friends with whom the White Swiss Shepherd like to race time and again.

But an excellent guard dog nonetheless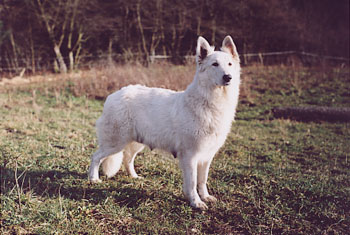 When an unwelcome stranger enters our property, even if not for the first time, the dog starts barking to announce his arrival and to dissuade him from advancing. His barking frightens the stranger, who had better not try to pat him to try to gain the dog's sympathy. No friendship with strangers: the dog makes no bones about that! Now that is an intelligent dog with sound principles. And it is not only strangers who cannot enter his territory. In an unseemly manner the same he applies to animals living in the forest that surrounds our property: no fox comes to eat the chickens and no wild boar dares venture in our kitchen garden!
And then his shepherd's instinct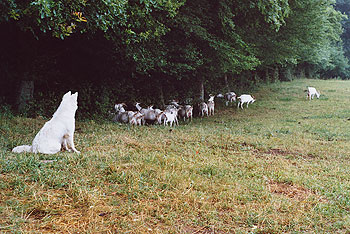 A White Swiss Shepherd is not a Border Collie, but he easily knows the difference between tending horses and tending goats: he sounds the alarm immediately when a mare runs away, but knows how to prevent goats from leaving the shed when the door is open while the hay is being brought in. And when we walk the goats out, the dog follows to prevent a kid from moving away from the flock. Aware that the goats must not tread on other people s property, he forces them to change their mind as soon as they seem to be on the verge of doing so.
A loyal friend who does not run away
In 2005, when we had bought our first White Swiss Shepherd, we had no fences. Anouck never ran away, but always stayed on our land, even when we were not there. She never ran away when we were out walking either, even when she picked up the scent of rabbits and deer! A White Swiss Shepherd is not a Husky, not a Malamoet and not a hunting dog either.
An athletic worker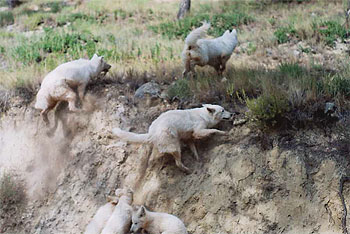 The White Swiss Shepherd enjoys walking, running, swimming and even mountain climbing. In competition, he excels quickly in terms of obedience, agility and tracking. He can also be trained, like a German Shepherd, as a guide dog for the blind.
Natural breeding affects the character
Our specific breeding method in the great outdoors, in a herd and family environment, gives our puppies great self confidence and leaves no room for anxiety and uncertainty. The result is a balanced dog that feels good about himself, is friendly and affectionate, but also independent. In 8 weeks our puppies have grown into strong, healthy little dogs with an exceptionally good character as new owners tell us time and again to make us rightfully proud!
⬆